Processed Frozen Chicken Paws
Agronomics International is capable of supplying 100+ containers (2700MT+) per month of high quality, Grade A processed, frozen chicken paws and feet. Our supply partner is strategically located in Croatia, with fast access to International shipping ports, and boasts one of Europes newest and most advanced processing facilities. The facility is fully certified via local and EU authorities.
PRICE: Call For Current Pricing
PLACE OF ORIGIN: EU / Croatia
· CLEAN AND FRESH
· WHITE SKIN
· NO FEATHERS
· NO BAD SMELL
· NO BRUISES
· NO BLACK SPOT/PAD
· NO EXTRAVAGATED BLOOD
· BROKEN BONE (less than 3%)
· MOISTURE CONTENT (Less than 2%)
· NO AMMONIA BURNING SPOT
· NO PRESERVATIVE
· WEIGTH: 26 – 38 gr EACH (+/- 10%)
· SHELF LIFE: 18 MONTHS FROM PRODUCTION
Shipping Terms: EXW/CIF
Preferred Payment Terms: L/C
Popular Destination Ports: Haiphong, Vietnam // Hong Kong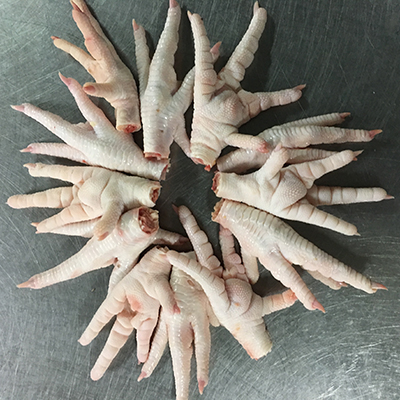 ☏ Call Now: 1-321-549-3200
Availability
In stock freshly produced and available for immediate delivery. 10 -12 calendar days are needed, from the opening of the LC or another agreed upon method of payment, for ship sailing. (It includes time necessary for delivery from our factory freezer to loading dock in EU port, and to meet the scheduled ship sailing date.
Packaging
Cartons contain poly bags 10 kg. Plastic bag properly labeled (low density polyethylene), or as agreed with the buyer within our ability we will make a good faith effort to comply if possible and feasible to us.
Email Us: sales@agronomicsint.com